Mary Burk Snidow Headstone
at Horseshoe Cemetery, Pembroke, Giles Co., Virginia

---
Recent discovery!!! Don and Nancy Johnston, along with Jim Yarbrough and others, went to Horseshoe Cemetery in 2007 & 2008 to work on stabilizing the tombstones in the cemetery. In the process, another tombstone for Mary Burk Snidow was found! The Tombstone reads: Mary Snidow, Born 23 Dec 1761, Died 3 May 1825."
It was about a foot deep on top of Adeline Chapman Snidow's grave.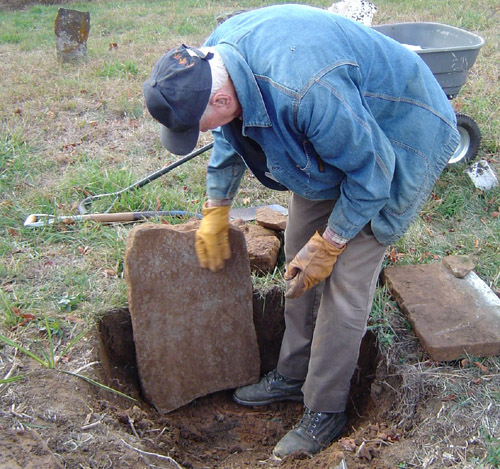 (Looks like she did die on May 3rd!)
(The following photos were taken in May 2004 by Jane Snidow-Lloyd).
Some of the headstone is difficult to read:
In memory of
Mary Snidow
wife of
_____ Christian Snidow
and daughter of
Tho___ _____ Clara Burk
(Thomas and Clara Burk)
____ departed this life
__y 3rd 1__5
(my records indicate she died May 5th, 1825 but the headstone sure looks like it says "3rd")
______
63 years 1 months ______