---
About Us
---
After thirteen years of annual gatherings which began in 1977, the Snidow Association became incorporated in 1990 in order to be able to take the title to certain ancestral lands, to preserve family artifacts, books, furniture, pictures, etc. and to provide perpetual care of certain of our ancestral cemeteries. The annual meeting/reunion is held in Pembroke (located in southwestern Virginia on Rt. 460.) every August.

FUNDING: We operate solely on contributions and monies raised through various projects (listed below). This corporation is organized exclusively for charitable, educational and scientific purposes as a non-profit corporation including for such purposes the making of distributions to organizations that qualify as exempt organizations under Section 501(c)(3) of the Internal Revenue Code of 1954. See our donations page if you wish to make a tax-deductible contribution.

PROJECTS: Over the years several noteworthy projects and events have benefited the Snidow Assn. either financially or historically...sales of the 1994-1995 Snidow cookbook sales (compiled by Peggy Snidow of Roanoke), Snidow Cabin prints and notepaper of the pen and ink drawing done by Betty Snidow Ogden, Gordon Snidow prints (Gordon graciously donated part of the value of the sales of these prints in 1991); 1999 tombstone dedication and patriot markers for Captain Thomas Burk and Lt. Christian Snidow at Horseshoe Cemetery by the S.A.R., New River Valley Chapter and the 1999 dedication of the Revolutionary Soldiers' grave marker for Philip, Jacob and Theophilus Snidow at Lilly Hill cemetery by the D.A.R. George Pearis Chapter; dedication of the new (replacement) headstone for Col. Christian Snidow at Horseshoe in 2003; the 1988 Snidow Pioneers monument, a memorial to our ancestors John Jacob and Elizabeth Helm Snidow; carbon-dating of the old Snidow cabin; and last but not least is the ongoing maintenance of Horseshoe and Lily Hill Cemeteries where many of our Snidow ancestors are buried.


NEWSLETTER: Descendents worldwide received The Snidow Association Newsletter for over thirty–five years. Each publication was mailed to some 240 descendents' households. Several issues are posted on this website in pdf format. And a few articles from past issues can also be viewed by clicking on our "Newsletter Archives" link on our Newsletter web page. Our publishers/compilers over the years:
Mary French Boswell of Roanoke, Virginia - 1978 to 1984.
Also served as Historian.


Thomas N. Clark of Burlington, NC - 1984 to 1990.
Past President & Historian (d.10/17/08).


Jane Snidow Lloyd of East Longmeadow, Mass. - 1990 - 2002.
Past President / Current Webmaster


Mabel Peters of Ridgeway, VA - 2002 to 2012.
Past President
PAST PRESIDENTS:
Clifton Leonard Snidow (Lynchburg, VA)
Philip Snidow (Pearisburg, VA)
Ruth Guthrie Blevins (Ripplemead, VA)
Thomas N. Clark (Burlington, NC)
Anne Snidow Frazer Hamilton, VA)
John Jacob Snidow (Hardy, VA)
James Snidow (Roanoke, VA)
William E. Snidow (Pembroke, VA)
Betty Snidow Strauss (Radford, VA)
Jane Snidow Lloyd (then of E. Longmeadow, MA/Enfield, CT)
Mabel Peters (Ridgeway, VA)
William E. Snidow (Pembroke, VA)
Nathan Snidow (Pembroke, VA)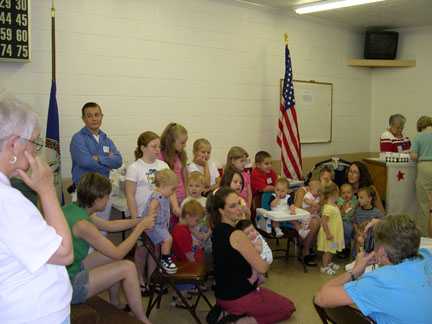 Children at the 2005 Snidow Reunion